There are so many educational books out there that it can be difficult to know where to start. For anyone looking for books to read to improve their teaching, I would suggest they start from their own subject. The following list serves as both a reflection on books that have improved my teaching of English and a recommended reading list for English teachers. My friend and colleague @srcav has undertaken the same task for Maths teachers and you can read his list here.
You Talking to Me by Sam Leith
All English teachers should read this. It's an entertaining and constantly enlightening book on rhetoric and so many of my best lessons this year have been inspired by it. The book is particularly useful in helping to teach sophisticated writing techniques. While we may never use (or even understand) hyperbaton or tmesis, it still serves as a handbook to improve students writing. Not only this, but it will help teachers move students away from the awful technique spotting that litters essays on persuasive writing.
Rhetoric is language at play; language plus. It is what persuades and cajoles, inspires and bamboozles, thrills and misdirects. It causes criminals to be convicted and then frees those criminals on appeal. It causes governments to rise and fall, best men to be ever after shunned by their friends' brides and perfectly sensible adults to march with steady purpose towards machine guns.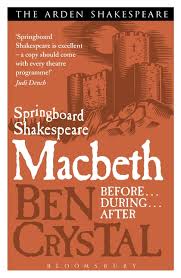 Springboard Shakespeare series by Ben Crystal
There is a world of difference between knowing a play and knowing how to teach Shakespeare to a class of students who often arrive with negative attitudes towards him. I could have selected Shakespeare on Toast from the same author but I found his Springboard Shakespeare series incredibly useful in offering new insights into old favourites. Designed for a theatre audience who may not know the play, the books get to the heart of what makes them special: the context, the problems, the discussion points. Often, Crystal points out details that illuminate a scene and this can then be used in the classroom. I have used the Macbeth and A Midsummer Night's Dream and there are others on King Lear and Hamlet. There is one simple idea from his books which has really stuck with me:
When looking at Shakespeare's writing it makes sense to think of a play as being full of speeches to be spoken out loud, rather than text to be read: we speak in thoughts; we write in sentences.
There are more extensive books on Shakespeare worth studying of course, but this is a great one for teachers.
10 Things Every Writer Needs to Know by Jeff Anderson
I have chosen this book in particular because of Anderson's explanation of how to use mentor texts and the influence this had on my own teaching of writing. His approach of 'read>analyse>emulate' is simple but effective. This is just one of the sections of the book which can improve practice. There are many more chapters full of wisdom and it is one of those books that is often worth dipping in to for inspiration.
Models are our teachers. Using the scientific method of writing from models we can do just about anything. The trick is to zero in on what works in a piece of writing and to find what we can use in our own compositions. When we stumble across writing that strikes us, we pause, reading it slowly and closely, analysing and soaking in what strong writers do.
Bringing Words to Life by Isobel Beck, Margaret McKeown and Linda Kucan
Beck, McKeown and Kucan build a strong argument for why we need to teach vocabulary and explore how we should do this. The follow up, 'Creating Robust Vocabulary', is also a must read. The most important idea in this book is that without a clear and structured approach, students with poor vocabularies will find themselves further and further behind and that simply providing a thesaurus or word banks is not enough. I would also recommend Teaching Word Meanings by Steven Stahl on this topic.
The problem is that many students in need of vocabulary do not engage in wide reading, especially of the kind of books that contain unfamiliar vocabulary, and these students are less able to derive meaningful information from the context.
Teach Now: English by Alex Quigley
This is a book I wish had been around when I first started teaching. Granted, I wasn't really reading educational books back then, but you get the point. While Alex's book deals with more than just subject pedagogy, the sections on teaching English are the ones which resonate. His section on 'Using language to explain, question and feed back' is particularly strong.
We should remember that the essential elements of great teaching do not require flashy technology, glossy labels or teaching packs- just skilled, well-practised pedagogy.
In limiting myself to 5 choices, I have omitted some great books. Feel free to suggest your own in the comments.