From September, I was appointed Research and Development Leader.  It is an unusual job role and one which I absolutely love.  The broad remit is to develop outstanding and innovative teaching practice in our school. To an extent, I have been able to shape the role to my strengths and passions.  Today I had my mid-year review with the Head of School, the Executive Principal and our School Improvement Advisor and I thought I would reflect on the development of the role here.
When I was at Cramlington Learning Festival in June, they used the analogy of a stick of rock to represent a school.  The idea was that wherever you cut a stick of rock, the same message remains.  It works the same for a school- wherever you look you will see the real ethos of that school.  Pete Jones explores this idea in his excellent blog here.  I like the idea of a school where the conversations are about learning and I want to play my part in developing that school culture.  My focus in launching this role was building the culture of collaboration so that new ideas and methods can be developed without a very prescriptive whole school approach.
This blog is where I was at the start of the year.  Here is where I am now:
The successes
The Blogpocalypse
One of the best things to develop this year has been the blog-off with two colleagues.  We seem to dovetail quite nicely.  Stephen Cavadino's 'Cavmaths' blog is all passion and enthusiasm.  He sees Maths everywhere!  Richie Dunk's blog is a bit more academic and research driven.  (I will have to ask him tomorrow what 'Beaudrillardian simulacrum' means.)  I like the sense of collaboration, especially as we have all been part of the blog-sync.  There's also a nice bit of professional competitiveness.  We are going to set up a similar in-school blog-sync project on our staff blog.
For me, the blog is a fantastic way of reflecting on my own practice- it helps me to become a better teacher.  In doing this, I often feel able to share my ideas which I hope can help develop other teachers.  This pattern of reflect-then-share is very important in staff development.
Leading in Learning Magazine
I devoted quite a bit of time to this in order to create something that would be read by our staff.  It has been great to share this with a wider audience too.  We thought about it in terms of different staff archetypes. The geeks (and let's face it- if you're reading this blog you are probably one of them!) will read it cover to cover, there will be those who dip in and out of it and then there are those who will give it a quick flick through and read anything that jumps out.  I didn't want something which existed just to make me look good but would draw in those who wouldn't usually read such a thing.  The design from my colleague Jackson is a massive selling point and he really worked to the brief.  It is a pleasure to work with him on this project.  Equally, it was pleasing that there were a number of contributors.  We have already started the plans for the next one and the idea is that more and more staff volunteer to write articles.
You can read the magazine here.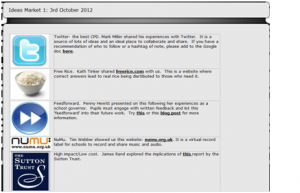 The Ideas Market
The idea is not groundbreaking- it's just a regular in-house mini-Teachmeet.  What I like is the fact that we are continuing to build this culture of collaboration and sharing of good ideas.  The fact that teachers attend this voluntarily is wonderful.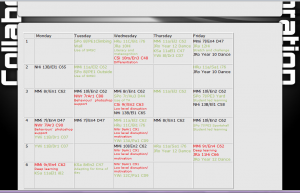 Open Classrooms
I have started a timetable of lessons which are 'open'.  These are lessons where teachers have highlighted good practice, some where they seek support and some where they just want to work with others.  It has been used by many staff and sparked off some further projects and collaborations.  Teaching is hard, and knowing that your colleagues will support you and will open their doors is pretty awesome.
We have just started our Chain Reaction project and I will blog about this later in the year, when I reflect on my role again. There are a number of other projects I am involved with, such as team teaching, working with NQTs, leading on teaching and learning in the English Department.  I'm also trying to join in more Twitter conversations rather than just the odd tweet.
Some things I need to develop
The VLE
I have refreshed the Teaching and Learning section of our VLE.  It looks great but the Head of School didn't know about it.  As he is quite on the ball, it brings me to…
PR
We had an interesting discussion about the extent to which these methods are publicised.  For example, when we launched the magazine to all staff I wanted to place it in their hands without any fanfare, to let it speak for itself.  Similarly, I think there is something quite off-putting about whole staff emails bombarding staff.  However, all the work that goes into developing the VLE is pretty meaningless if no one actually uses it.  Furthermore, there will doubtless be staff who would get involved in some of these projects but don't quite know where to start.  So, while you won't see my image on the side of buses, I am certainly going to make more of these projects visible to staff.