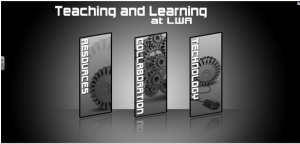 Before the summer, I was appointed to my new role as Research and Development Team Leader.  It is a job that allows me to do things that I am passionate about and I feel very fortunate to be taking the role on.  There are a couple of very specific things I have to do but I have a very broad remit around developing innovative practice around school.
Immediately, I drew up a list of things we needed to develop.  Ideas came as quickly as it took my Twitter timeline to fill up.  Lots of summer reading (e.g. An Ethic of Excellence) led to further new things that we just had to do.  As I started to think about all of this, what struck me was that it would be quite impossible to deliver training session after training session and quite irritating for staff to receive lots of informational emails.  So many ideas but bombarding staff with them would not work.  I realised that the way to develop practice across a whole school was not in a top down model but from the bottom up, gradually trialling, adjusting and sharing ideas in classrooms so that by the time they reach a critical mass, teachers are secure in their understanding of not just the what, but the why.  I therefore decided that the first thing to do was create the ways for staff to collaborate, reflect and share practice.
We already have a half-termly 'Ideas Market'- our version of a Teachmeet. This is an informal gathering attended by a small but committed band.  It is also a key part of our induction process that NQTs (+GTP, TeachFirst etc) work together.  For example, they planned a series of cross-curricular lessons together and led whole staff training on behaviour management.  I have already posted here on working together with my mentee last year.  However, it is safe to say that this collaborative culture is by no means embedded or high profile.
 What next?
One of my interesting summer reads was Professional Capital by Michael Fullan and Andy Hargreaves.  They develop the idea that successful schools should have high 'social capital'.
Key quotations which struck a chord:
"…teachers who work in professional cultures of collaboration tend to perform better than teachers who work alone."
"In collaborative cultures, failure and uncertainty are not protected and defended, but instead are shared and discussed with a view to gaining help and support."
I was also recently inspired by this fantastic blog post by David Fawcett.  He lists so many ways of building a culture of collaboration in a school.
So here are my (constantly evolving) plans:
Open classroom system introduced.  Teachers willingly invite other teachers into their classroom. The other teachers can join in, offer support and learn from colleagues.  This is a feature of my classroom, christened the Goldfish Bowl as it is right in the heart of the school and has lots of windows on to the corridor.  This is a picture of our boyband 'Sen5ation' using the room in their music video.
Development of the Ideas Market e.g. by focussing on particular themes.
I have set up our school's teaching and learning blog, the Leeds West Wire, and have started to encourage teachers to blog as both a way to reflect and a way to share.
We will develop our simple teaching and learning booklet into a larger magazine and share this outwith the school.
Professional enquiry groups created.  This is an upgrade from the coaching triads that we have used before.  Instead of the focus necessarily being on lesson observation and feedback, staff will be able to choose whatever they want to work on and present their ideas in a celebration event later in the year.  We have a demonstration of IRIS Connect in a couple of weeks which has the possibility of becoming a tool to support this.
Chain reaction: two members of staff work together then split and each works with someone else on a project.  Then those two people work with others before closing the 'loop' at the end of the year.
Any member of staff going on an external CPD course shares what they have learnt and are encouraged to support other staff with similar needs.
The VLE is also now set up so that staff can add resources and share ideas easily.
 Another aspect of all this is that I am asking staff to take ownership of these things.  The organisation of the Ideas Market, for example, will be passed around teachers to allow it to evolve and to offer leadership opportunities to others.  In the last week, I have had so many conversations with staff who want to take on projects and get stuck in.  They don't need a job title or permission to lead teaching and learning projects.
Watch this space.